Article 10 and SEQR Under the Clean Energy Standard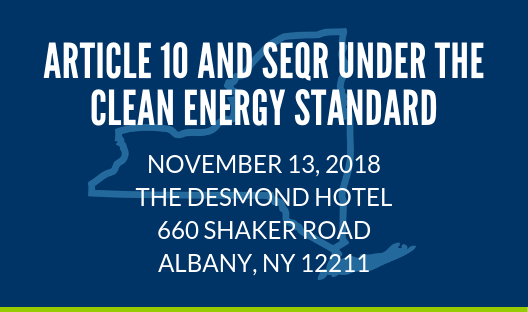 Join us at the Desmond Hotel on Tuesday, November 13 for the Article 10/State Environmental Quality Review Forum!
How do projects get sited in New York? Hear expert insights from New York State agencies, law firms, developers and more.
REGISTRATION CLOSED - SOLD OUT! Pre-registration required - there will be no registration at the door!
Regsitration includes breakfast, lunch and breaks.
Agenda
8:00 AM Breakfast and Check-In
9-9:30 AM Welcome and Opening Remarks
John Rhodes – Chairman, New York State Public Service Commission
Basil Seggos – Commissioner, New York State Department of Environmental Conservation
9:30-10:30 AM Overview of Article 10 Process, Status and Priorities – Moderated by Peter Olmsted, Assistant Secretary of Energy, New York State
Sarah Osgood – New York State Department of Public Service
Ken Lynch – New York State Department of Environmental Conservation
Houtan Moaveni - NYSERDA
10:30-12:00 PM Lessons Learned and Views on State Priority Areas – Moderated by Doreen Harris, NYSERDA
Michael Speerschneider – American Wind Energy Association
Sam Laniado – Read & Laniado, LLP
Amanda Lefton – The Nature Conservancy
Jim Muscato – Young/Sommer
David Gahl - Solar Energy Industries Association
12:00-1:00 PM Lunch
1:00-4:00 PM Panel Discussions – 40-minute, focused discussions on specific topical areas, focusing on constructive feedback, lessons learned, best practices, and more.
Solar Siting and Land Use – Moderated by Maureen Leddy, NYSERDA
Michael Saviola – New York State Department of Agriculture and Markets
David Kay – Cornell University
Audrey Friedrichsen – Scenic Hudson
Betsy Engelking – Geronimo Energy
Marisa Scavo – Cypress Creek Renewables
Noise/Visual Impact – Moderated by Sarah Osgood, New York State Department of Public Service
Erik Koppen – Arcadis
Rob O'Neal – Epsilon Associates
John Hecklau – Environmental Design & Research
Local Government Representative
2:30 PM 15-Minute Break
Natural Resource Issues in Wind and Solar Development – Moderated by Judy Drabicki, New York State Department of Environmental Conservation
Gene Kelly – Harris Beach
Neil Habig – Apex Clean Energy
Anneliese Schmidt – Antares Group
Jessica Wilkinson - Nature Conservancy
Community Benefits/Impact/Support – Moderated by Houtan Moaveni, NYSERDA
Gabe Wapner – Hecate Energy
Eric Miller – Invenergy
George Pond – Barclay Damon, LLC
Joseph Kushner – Retired, Eagle Town Supervisor
Nora Madonick - Arch Street Communications
4:00 PM Conclusion/Closing Remarks
Gavin Donohue – President and CEO, Independent Power Producers of New York